How Bears Become Nuisances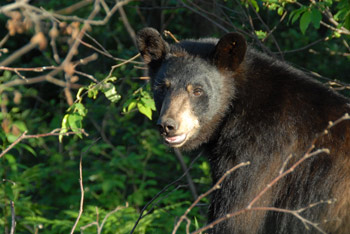 Bears will travel more than 100 km to a known food source, such as a berry patch or a stand of beech trees. Bears are highly intelligent and will learn where other food sources can be found and seek them out. They can easily learn to re- visit your back-yard or campsite once they have determined that food can be found there. The majority of bear problems occur as a result of improperly stored household garbage. Bears quickly learn to associate human residences and campsites with a readily available food source.
Bears are also attracted to pet food that is left outdoors, bird feeders, barbecues, composters, fruit trees, beehives, sweetcorn and grain fields. Garbage dumps provide a concentration of readily available food that often attracts bears. Bears lose their natural fear of humans through repeated exposure to people in areas where food is intentionally or unintentionally provided.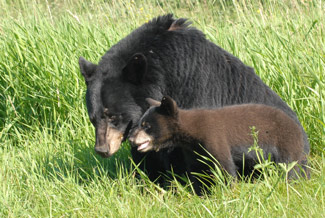 In such cases, conflict with humans is inevitable; bears may even become destructive or dangerous. Such bears are often destroyed because they have become a "nuisance" or are perceived as a threat to human safety. That is why you should never intentionally feed bears or place food to attract wildlife to your yard for viewing.

Credits: Ontario Ministry of Natural Resources, Dr. Martyn Obbard, Photography – Mike McIntosh