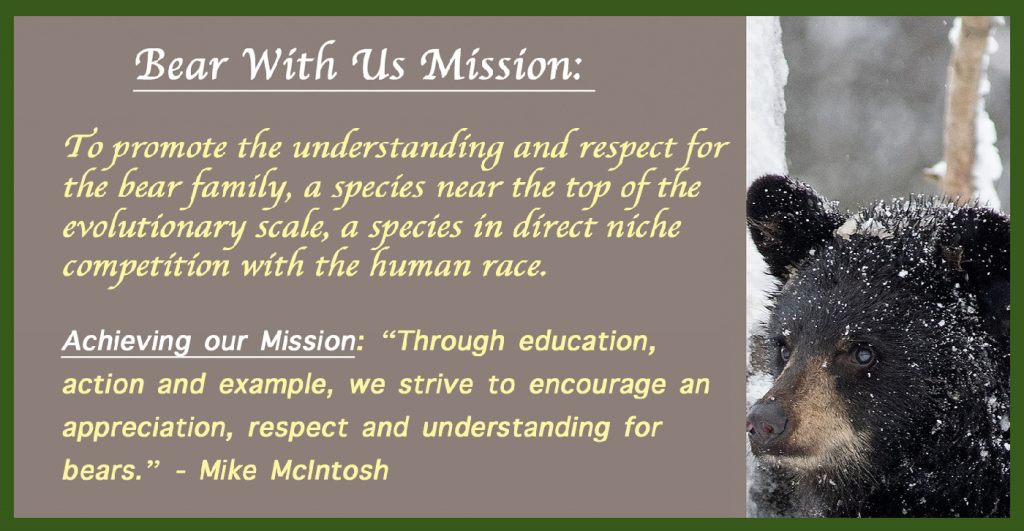 In-person presentations available regarding the Black Bear and Human/Bear Coexistence.
Invite one of our Black Bear Educational Professionals to speak at your event.
Mike McIntosh & Ella McIntosh – Understanding the Black Bear
The year was 1992. With the help of some local friends interested in wildlife rehabilitation and the cooperation of the Ontario Ministry of Natural Resources and Forestry (OMNRF), the Bear With Us Sanctuary and Rehabilitation Centre for Bears was founded by Mike McIntosh. Since its inception, Bear With Us has assisted 550+ orphaned and injured bears return to the wild. Bear With Us is a permanent home to a select few bears that cannot return to the wild and up to 50 injured bears and orphaned cubs that are returned to the wild.
Ella McIntosh has been an avid hiker in black bear and brown (grizzly) bear country for 20+ years. Ella has a similar passion for bears, wildlife and nature as Mike. Ella and Mike work together as husband and wife and partners at Bear With Us and the Bear With Us Educational Outreach Initiative. Often Ella and Mike present together using video footage of bears including bears communicating.
Contact Mike by email – mike@bearwithus.org. Call or text 1-705-571-4397
Contact Ella by email – ella@bearwithus.org. Call or text 1-705-571-9001
Catherine Clail – Understanding and Respecting Bears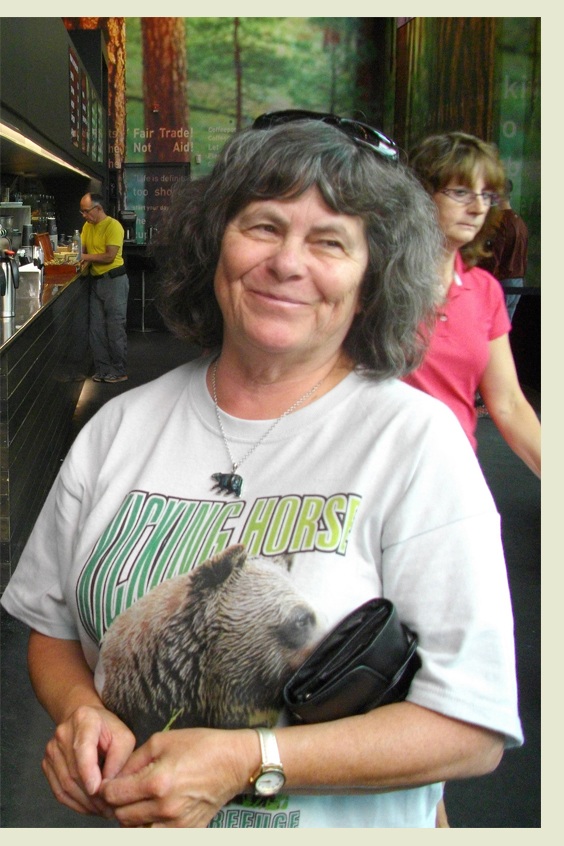 "I relocated to Huntsville from Southern Ontario in order to promote human/bear coexistence through presentations to adults and children who live and recreate in bear country. As a retired school teacher, I now gladly support bears and Bear With Us as a volunteer through the Bear Education/Outreach initiative". – Catherine
Catherine Clail may be contacted directly by
email – ladyarwen_7@hotmail.com
Call or text 1-519-222-3180.

Thank you for copying and pasting the email links. We have not made the links "live" in order to avoid spam mail that may include malware.