The Bear With Us Centre for Bears IS NOT OPEN TO THE PUBLIC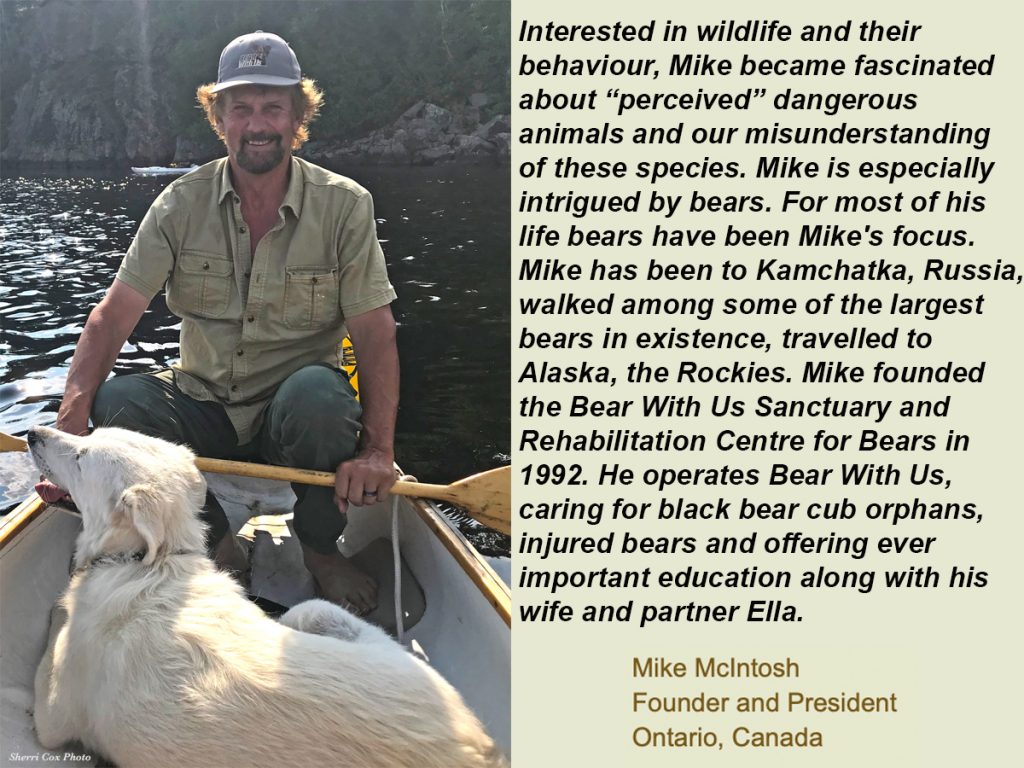 In 1992 with the help of some local friends interested in wildlife rehabilitation plus the cooperation of the Ontario Ministry of Natural Resources and Forestry (OMNRF), Bear With Us was founded by Mike McIntosh. All began with the first bear in April 1992, a big old blind bear from a zoo in eastern Ontario. This bear named Mishoomish remained at Bear With Us until his passing. Since its inception, Bear With Us has assisted 700+ orphaned and injured bears return to the wild. Bear With Us is a permanent home to a select few bears that cannot return to the wild.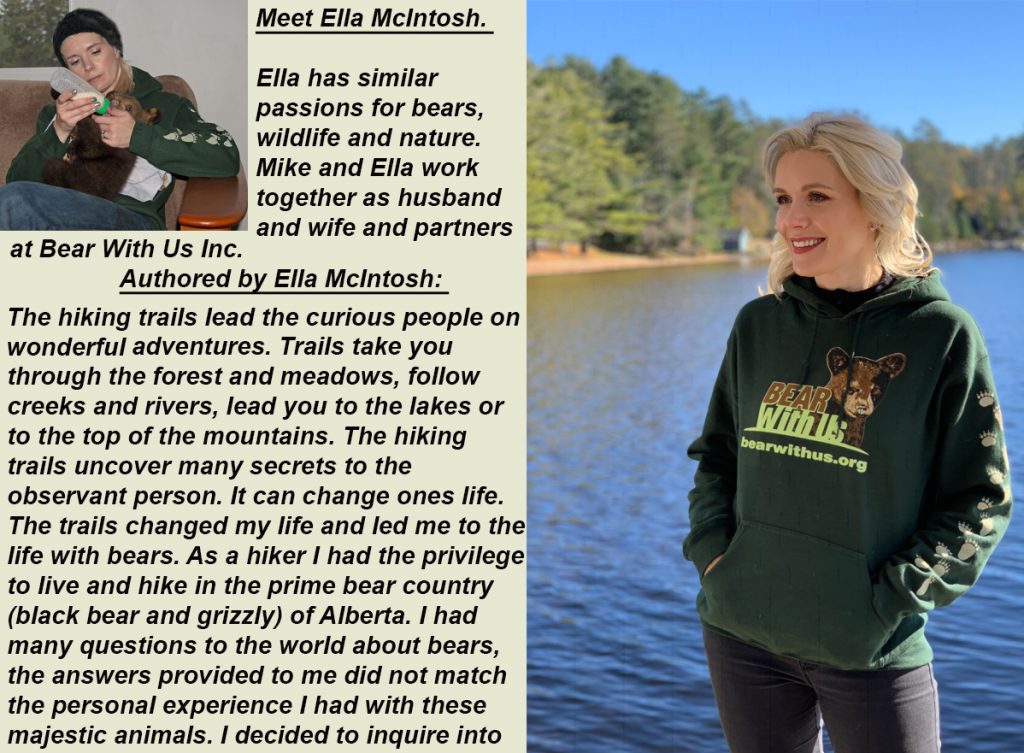 contradiction. I asked many questions to seek the truth about bears for myself. The wonderful journey of discovery took me off the regular hiking trails into the places where the animals live in their kingdom. I followed their trails or made my own just to have an opportunity to observe their lives as is. I made friendships with people who were like minded as I, and who were on a similar journey of discovery. I have learned that bears are exact opposite of the character they have been given by people. Once I got some understanding of bears it stopped the fear, the feeling got replaced with respect and appreciation. When you feel like that, you want to tell anyone who is willing to listen since much information they have been told about the bear is not true. My journey of inquire and understanding lead me to Bear With Us, a place where orphaned bear cubs get a second chance at life , a chance to be alive and to be wild as a bear should be. Bear With Us is also a source of education that promotes a true understanding of a way to coexist with bears. My husband Mike McIntosh and I work together at Bear With Us as a married couple. I truly believe that humans can find a way to live in peace with bears if they observe and learn. Learn to be open and understanding. Bears do not create a problem, our behaviour does. We have a lot of work to do regarding the way we think and behave toward bears and other animals. Open your mind and your heart, you will be pleasantly surprised where it may take you. Enjoy the journey. ~ Ella McIntosh
Bear With Us was incorporated as Bear With Us Inc. and became a registered Canadian Charity in the year 2000.

Mike, Ella and Team do speaking engagements to interest groups such as campers in Ontario Parks, local cub-scout packs as well as schools. They offer information allowing people to learn through their presentation "Understanding the Black Bear" .

Fulfilling the mission: The four primary areas of operation for Bear With Us are:
1-Black Bear Rehabilitation; orphaned bear cubs and injured bears cared for and returned to the wild in a high state of health.
2-Education; (a) Off location slide/video presentations for groups at Provincial Parks, schools, cub and guides, other young people's groups, nature clubs and more. (b) Bear With Us website, strong social media presence including a Facebook page and a special educational Facebook page Molly Bear. (c) One on one phone conversations and email responses to individuals with questions regarding bears. (d) print material such as the brochure "Understanding the Black Bear" and bear information website Wise About Bears
3-Bear Sanctuary; A comfortable place to stay for permanent non-releasable bears such as ex-circus bears, zoo excess or illegal pet confiscations.
4-Conflict Resolution; Assisting people to coexist with bears. Involves individual consultation with people about how not to encourage a bear by removing food attractants.
Our Team at Bear With Us values access to the expert wildlife veterinary services for the bears in our care provided by Dr. Sherri Cox and her Team. https://www.nationalwildlifecentre.ca/about-us/

The Bear With Us Centre for Bears Rehabilitation Facility:
Meaningful Quotes:
"Appreciate, view with respect, allow them to exist, to coexist. The bear will if we will". – Mike McIntosh
"If you talk with the animals, they will talk with you, and you will know each other. If you don't talk with them, you will not know them, and what you do not know, you fear. What one fears, one destroys." ~Chief Dan George
"When we return wild animals to nature, we merely return them to what is already… theirs, For man cannot give wild animals freedom, they can only take it away." ~Jacques Cousteau
"To say, "Let nature take its course", is unacceptable because human imposed injury is not natural injury. Therefore intervention regarding wildlife is the responsible action to be taken." – Mike McIntosh
"I've spent most of my life surrounded by incredible beauty, enjoying wonderful relationships with wild animals most of us were taught to fear. We really need to get past our fear of the wild. It's what sustains us, not what threatens us." ~ Charlie Russell
"In the end we will conserve only what we love. We will love only what we understand. We will understand only what we are taught." – Baba Dioum
"A problem for bears is not so much what we don't know, it is what we think we know that isn't true." – Dr Lynn Rogers.
"One cannot have lived as long as I have, alone in a wordless world that was as wonderful as I had with my bears, without struggling to be courteous in the human world where most people think…that we are superior to every living thing."- Charlie Russell