How Do Bears React to People?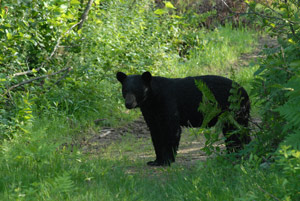 Black bears may enter camps or your cottage or home, especially when wild foods are scarce, but they rarely attack people.
Black bears usually retreat before people are aware of them. Their hearing is more sensitive than a human's, and their broad, soft foot pads allow them to move quietly downwind where they can best identify their dangers. They may stand upright to see farther (not a sign of aggressiveness). If need be, they can run faster than 25 mph or climb trees quickly.
They generally prefer to forage for wild foods away from people but are almost as quick as chipmunks to seek food in campsites and garbage cans when wild nut and berry crops fail. They rarely attack people. Campground bears and roadside panhandlers may nip or cuff people that crowd around them, try to pet them, or tease them with food. But the injuries, if any, are usually slight, only occasionally requiring stitches.
Full-blown attacks by black bears are rare. Black bears attacks are usually not at campgrounds and are usually not by black bears that are familiar with people. How likely is a black bear to be a killer? The 500,000 black bears in North America kill fewer than one person per 3 years, on the average, despite hundreds of thousands of encounters. To put this in perspective, for each death from a black bear across North America, there are approximately 17 deaths from spiders, 25 deaths from snakes, 67 deaths from dogs, 150 deaths from tornadoes, 180 deaths from bees and wasps, 374 deaths from lightning, and 90,000 homicides in the United States alone (data from the National Center for Health Statistics, 1980-1983). In the rare event of one of these attacks, the best defense is to fight with fists, feet, rocks, or anything hard.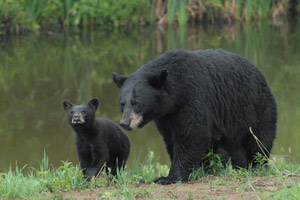 Playing dead is usually not the best action with black bears.
Unlike grizzly bear mothers, black bear mothers seldom attack people in defense of cubs. Black bear mothers typically bluff or retreat. Researchers who routinely capture cubs by chasing them up trees have not been attacked even when they have held the screaming cubs. The ferocity of mother black bears is one of the biggest misconceptions about this species.
Credit: University of Minnesota – Dr. Lynn Rogers
People & Bears Can Co-Exist
People need correct information about bear behaviour and their biological requirements. This allows an appreciation for these animals and encourages the will to coexist. People and bears can coexist.
Bears are very strong and quick. Bears can be dangerous, however, the possibility of a bear harming  people is overstated . Bears have the power to inflict great damage but for some reason they exhibit tremendous restraint when dealing with people. Bears that allow themselves to be seen by people don't tend to be a threat to human safety. This is documented. In addition, so called nuisance bears have not attacked and killed anybody that there is record of. Some times a bears nervous behavior is misinterpreted for actions of aggression and the bear is unfairly dispatched.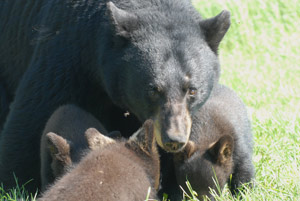 Education about bear behavior can reduce the need to live trap and relocate but the need does arise. Relocation of a bear should be a last resort to solving a people/bear conflict. A good reason for relocating a bear is when human activity is too hard to manage. Examples are parks, schools and areas where the number of people reduce the opportunity to encourage the bear to move on by removing the attractant (ie-peoples food, bird seed, food for pets).
Conflict Resolution – Human and Bear ie: Nuisance bears
Successively relocating a bear with a full stomach greatly reduces the chance of that bear homing immediately. Relocate to an area featuring good bear habitat and release a bear that is comfortable because it is not thirsty or hungry will reduce the chance of return because the animal is content enough to explore the new area instead of thinking only of a bellyache and quickly returning to an area where the bear knows it can find something to eat. Some bears will return. My experience has been about one in ten relocated bears return to the area of conflict as identified by an ear tag.
Only move females with cubs when all options are exhausted.
The bears well being and long term survival are carefully considered as well as people's fear and concerns.
Credit: Mike McIntosh